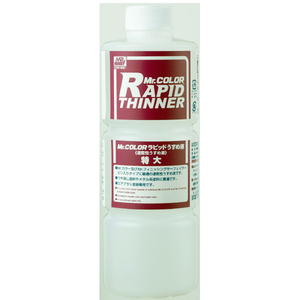 Mr Color Rapid Thinner
Product Type:
Brand:
This is a new type thinner dedicated to Mr. Color.
Drying speed when an air brush is used is faster than with the regular thinner, and when metallic paint is used in particular, metallic particles are aligned evenly to produce a neat glossy surface.
This is also suitable for dilution of surfacer and mat paint, and also for camouflage painting and gradation painting.
* Because of the fast-drying speed, we do not recommend this for glossy paint types other than metallic painting.
Please use Mr. Leveling Thinner for glossy painting.
---
We Also Recommend