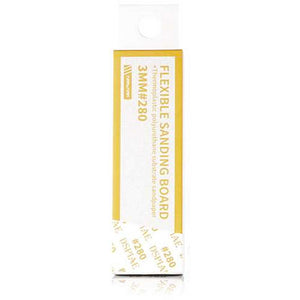 FS-280 Flexible Sanding Board 280 grit (5 pcs)
Product Type:
Brand:
Suits all Curvatures | Replaceable Abrasive Layer
Soft and Flexible | Tightly Follows the Contour | Highly Effective | Even Force Distribution

Tightly Follows the Contour
Extra grip and traction of the sanding pad enhances the overall control. You may find it follows each and every contour effortlessly instead of pressing it down sorely.
Even Sanding
Pressure is evenly distributed over the complete surface that eliminates flat spots or dents commonly seen on traditional sanding surfaces
Tough yet Flexible
Jelly like PU construction with extra flexibility, can be used for relaxation. (may not withstand a deliberate overstretch.
No Adhesives Required.
Various grits applicable upon demands without using adhesives. (cor compatible products only) The tiny tabs design allows easy peel off and replacements.

Packing Details
Flexible Sanding Board 1x
Sandpaper x6
---
We Also Recommend