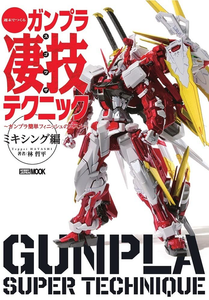 Great Weekend Gunpla Super Technique (Gunpla Easy Finish Recommendation-Mixing Edition)
Product Type:
Brand:
Hobby Japan

The latest entry in the "Gundam Model Techniques" book lineup from Hobby Japan features a theme of mixing! The popular serialized Gunpla articles that are featured in Hobby Japan every month are now brought together with all-new material, explaining easy finishing techniques to complete an amazing Gundam model kit full of originality with a detailed how-to guide. A wide variety of techniques are examined, from relatively simple things that can be done with an off-the-shelf kit, to methods leading to results that look like a full scratch-build model at first glance! A column by author Teppei Hayashi is included, as is a 14-page guide to starting with the MG Gundam Astray Red Frame Kai and turning it into an original robot with a transformation gimmick! Any Gunpla fan would love this book -- place your order today!
All text is in Japanese.
---
We Also Recommend